Name: Charlotte
Posts by Charlotte:
February 25th, 2019

I'll be the first speaker in a new Leonardo 'readers club' broadcast live on Zoom and Facebook today at 5.00pm GMT.

The discussion will be around my new article 'Digital Critics: The Early History of Online Art Criticism' which is out now in Leonardo.

January 5th, 2016

In October 2013 (to coincide with MediaArtHistories in Riga) I hosted a month-long discussion on CRUMB's New-Media-Curating discussion list. The topic was 'art history online' and my aim was to do public research for the Digital Critic project by inviting people consider the history of online art discussion – specifically listserv-based exchanges – within the parameters of an art discussion listserv. I wanted to revisit the history of art discussion listervs nearly 20 years later and generate a more dynamic archive as a counterpoint to the eventual print-published book Art Criticism Online: A History. The discussion archives are available at New-Media-Curating 'October 2013'

April 9th, 2014

I am giving a paper at the Association of Art Historians annual conference on Thursday 10th of April in a session called 'Parsing the Pixelated'. My paper looks like this:

And sounds like this:

Hacking Art History

Hacking – the disruption or bypassing of communication systems – developed healthily alongside the rapid advancement of communication technology in the 20th century. Once, it was inventor Maskelyne foiling Marconi's attempts to showcase radio (1903). Then it was the Zapatista-inspired digital sit-ins crashing the Mexican government's website (1997). And now it's Anonymous attacking the Church of Scientology (2008).  Meanwhile, hacker culture and FLOSS (free/libre and open source software) democratise hardware, software and ways of making things. Even Culture Hack Days and THATCamps cut the time and cost of digital up-skilling in the arts. But what does it look like when you hack the history of art? In this paper I describe cases in which digital communication technologies have been used to disrupt/bypass art historical systems. These include the naming of 'net.art' in 1997, 'Documenta Done' (1997), 'Tate Mongrel' (2000), and Kimathi Donkor's google image art history rewrite (2004). I show how these 'art history hacks' align with institutionally-critical conceptual art and the so-called New Art History. However I argue that they not only provide a mode of self-reflexive critique, but a more appropriate way of building histories of digital art which in fact might best be built beyond the art history book.

April 6th, 2014

There's an amazing project going on that (thanks to being way too over-stretched) I'm not as involved with as I'd have liked to be. Many of you know art history blogger extraordinaire Hasan Niyasi passed away last year and on the 6th of April – Raphael's Birthday – there's a co-ordinated effort to remember Hasan and all his amazing work. Sedef Piker explains the initiative on Hasan's blog:

"Why? We are calling for original blog posts to celebrate the life of the late Hasan Niyazi, his passionate devotion to Raphael and his commitment to open-access art history – as exemplified by his visionary project Open Raphael Online (ORO): www.openraphael.org

What? This is a chance for Hasan's friends and admirers to contribute articles, videos, photographs, mash-ups, etc., related to art and art history. Let's focus on the things that Hasan loved, as expressed in his extraordinary blog, Three Pipe Problem (www.3pipe.net) and, of course, ORO (www.openraphael.org)

Who? We are reaching out to everyone in the world who cares about the things that mattered to Hasan. He was an enthusiast as well as a scholar – and not a professional art historian (as he was quick to remind us!) Hasan had little time for academic boundaries, but plenty of time for building community around shared interests.

How? Simply post on your blog and register your post with InLinkz. If you like, you can download a badge for the event from this site (included below) and embed that image into your post.  If you don't have a blog, we would be delighted to help you find a home for your contribution. Just send an e-mail to us at: 3pipe.net@gmail.com."

Even though I haven't had nearly enough time to read through all the tributes being published these last few weeks, Hasan is always in my thoughts and my work and I will strive to have his contribution recognized by the 'establishment'. So in his memory, and because I know it would have made him laugh, I've Charlotte-i-fied Portrait of a Lady with a Unicorn (1505-06) which Hasan himself wrote about back in 2012. My home and office are liberally sprinkled with internet/meme favourite – the unicorn – so what better way to signal the depths of my digital connection with Hasan.

March 18th, 2014

Art history has largely been written by white western men about white western men. And even though feminists started to correct this in the 1970s, today its not just what you say, but how you say it that's important. Wikipedia, for example, is now one of the world's largest knowledge repositories. Millions of people use it everyday. However, there aren't enough female Wikipedia editors and partly as a result of this, there aren't enough Wikipedia articles about women. For me at least, being an art historian isn't just about looking back, it's about looking forwards as well and thinking about writing art history the right way, for the future. My concern since arriving in Hong Kong has been that if Wikipedia doesn't contain articles about Hong Kong's women artists, we not only risk perpetuating the same exclusive narratives, but we are providing inadequate information for future generations.

Therefore on Saturday 8th March I hosted a Wikipedia edit-a-thon at the School of Creative Media. Our collective aim was to write as many articles as we could on Hong Kong's women artists. Over 20 people attended and at the latest count, more than 12 new profiles on local women artists had been added to the online resource. Participants ranged from SCM professors to school teachers and HR consultants – we even had two-year-old beginner feminist in our midst. We were lucky to have several local representatives from Wikimedia on hand to support beginners – thank you Rover, Alexander and Venus! And come Sunday morning we were featured in the South China Morning Post! There have of course been other feminist edit-a-thons and I'm excited to be part of a wider network of people addressing such archival blindspots. I'll be reporting back on a range of these types of activities and what they mean for art history at the Association of Art Historians annual conference in April.

The edit-a-thon also signals the start of a new larger body of work I am producing which looks at how art history can and should be taught in the future. I'm quite the Cathy Davidson disciple and I increasingly operate a hybrid or flipped classroom where students come prepared to take part in art history, not just hear about it. Although I think there's still a place in the world for art history lectures – where would I be now if Griselda Pollock hadn't knocked my mock-croc boots off with her intellect and charm in the 1990s – I don't think it's the most effective way to stretch and engage students in an multi-media world. My amazing Research Associate Vennesa Yung and I will therefore shortly be launching Arts Future Classroom, a project crowd-sourcing 'unlectures' for the arts supported by grants from the City University of Hong Kong and the UK Association of Art Historians. We'll be inviting people to share all the content, tools, advice and resources for teaching art history in experimental ways thus generating a open teaching library where you can browse and borrow dynamic classes that don't rely on the lecture format. More soon!

September 30th, 2013

To co-incide with MediaArtHistories in Riga, I will be hosting October's New-Media-Curating list discussion on the topic of 'art history online':

Discussion points will include:

What types of art historical, critical and contextual modes does the internet support?
How have discussion lists changed the way we generate art knowledge?
How far have we come since the early lists in truly democratizing art discussion and creating alternate contextual practices?
What are some of the valuable new experiments being staged in the critical exploration of the arts?
What impact does all this have on the future of the art history book?

Each week I will begin discussing a new issue drawn from my research on post-internet art history and I will publicly invite responses from the list and beyond (I am also going to be approaching people privately and off-list, using email and other social media, in order to gather more opinions to feed these back into the list-based discussion). My plan is to rigorously test out ideas about the evolution of art contextual activities on the very pioneers who shaped these spaces and systems. I also want to preview sections from my forthcoming book, Art History Online, invite people to directly criticize my work and/or corroborate the facts. In doing this I aim to:
Work in a manner (publicly and online) that is more closely aligned with the practices and platforms the book will explicate.
Coordinate the creation of a robust online archive on the history of online art discussion. For example I want to revisit the history of lists, on a list, and make sure many of the key discussions and actions that have shaped its history are identified, linked to and discussed. This will generate a sort of live art history book on discussion lists and the archive will exist as a permanent counterpoint to the eventual print-published text of Art History Online.
In the first week I shall begin with the origins of discussion lists. Who started which list, where and why and what were some of the posts that established the list's reputation? I will draw out some of the history that isn't already described online and give list originators the opportunity to reflect, some years later, on what happened during these times. Then I will go on to ask people how they might theorize art discussion lists: as artistic or political statements in themselves? As living documents or performance spaces? As ways of hacking the systems of art making and contextualization?
Participants include:
Nettitudes author Josephine Bosma
Art historian/historiographer James Elkins
Furtherfield co-founder Marc Garrett
Nettime co-founder Pit Schultz
OBN co-founder Cornelia Solfrank
'60 wrd/min art critic' Lori Waxman
…and many more!
This month-long discussion is conducted in association with CRUMB and Arts Future Book, an experimental academic book series investigating the future of the arts book.
To take part, sign up for the New-Media-Curating list, follow me on Twitter or run your own con-current discussion and share it with us.
August 8th, 2013
Arts Future Book re
presents a substantial practical and theoretical investigation into the future of books about the arts.
As a book series we publish unique works that establish new systems for considering art. Our aim is to explore the relations between the form and content of art books and to exploit new technologies that expand their literal and philosophical capacities. What is a book about art, and what can and should it do?
Our first publication, Interactive Art and Embodiment: The Implicit Body as Performance, by Nathaniel Stern, is out in a few days: http://www.amazon.com/Interactive-Art-Embodiment-Implicit-Performance/dp/1780240090
This book shows how interactive artworks ask us to perform rigorous philosophies of the body. Stern argues that interactive art suspends and amplifies the ways in which we experience embodiment as per-formed, relational, and emergent. He provides many in-depth case studies of contemporary artworks that develop a practice of embodied philosophy, setting a stage to explore how we inter-act and relate with the world. He offers a valuable critical framework for analysing interactive artworks and what's at stake in our encounters with them, which can be applied to a wide range of complex and emerging art forms.
The book is published as a peer-reviewed printed book and eBook and is accompanied – or rather, re-per-formed – as an online participatory chapter about embodied research practices, and a multi-location interactive exhibition and virtual book tour.
In the companion chapter (offered in partnership with Networked Book at Turbulence.org), Stern offers a semi-autobiographical account of his own research trajectory, and invites comment, critique, and contributions of new work. This creates a participatory stage for rehearsing the performance of scholarship.
At the exhibitions, audiences encounter the concepts and materials addressed in the book. For example, in Stern's 'Body Language' series, participants use their full bodies to interact with digitized sounds, projected animations, texts, drawings, and videos, which shift and change with their movements. They explore, play with, experience, and practice how we make bodies and meaning.
In its various modes, Interactive Art and Embodiment performs the philosophical environment of interactive art, and embodies Arts Future Book's investigations into how we can and should perform art scholarship.
Further performances of art, philosophy and publishing will occur on Twitter using the hashtag: #implicitbody.
Arts Future Book is published by Gylphi Ltd and is supported by an international editorial board.
The Arts Future Book project has been explained, modelled (and remodelled) in the open-access journal article/artwork: 'Is Art History Too Bookish' by series editor Charlotte Frost.
Links:
Amazon.com: http://www.amazon.com/Interactive-Art-Embodiment-Implicit-Performance/dp/1780240090 
Gylphi: http://www.gylphi.co.uk/index.php
Arts Future Book: http://www.gylphi.co.uk/arts/index.php
Interactive Art and Embodiment: http://implicitbody.net/
Nathaniel Stern: http://nathanielstern.com/
Companion chapter: http://stern.networkedbook.org/
Networked Book: http://networkedbook.org/
Is Art History Too Bookish? http://www.gylphi.co.uk/artsfuturebook/
Twitter:
@gylphi
@nathanielstern
@charlottefrost
#implicitbody
July 31st, 2013
I've just written an article on my hashtag project for Hybrid Pedagogy
called 'Hashtag Classroom'. It begins:
Hashtags are taxonomic and pedagogical tools (with citation standards to boot). The Twitter hashtag was born in 2007. Invented by Chris Messina (then with the consulting firm Citizen Agency, now an open web advocate for Google), the first tweet with a hashtag read as follows: "how do you feel about using # (pound) for groups. As in #barcamp [msg]?"'. As Messina himself explains in a discussion group on the question and answer website Quora, he was trying to find a simple way for people to engage in group discussion. One that would work whether you were tweeting from your mobile phone or your bells-and-whistles iMac. And one that would be as easy to follow as ignore. Popular hashtags include '#fail', which is usually used humorously to point out either your own mistake or that of someone else, and #nom a hashtag based on the sound Sesame Street's Cookie Monster makes when he eats cookies, marking a moment of culinary delight.' – See more at: http://www.hybridpedagogy.com/Journal/files/Hashtag_Classroom.html#sthash.AwT8YOeM.dpuf
And on Friday 2nd August at 6.00pm I'll be taking part in a live Twitter discussion on hashtags in teaching/learning. We'll be using the #digped hashtag – so come join in!
July 30th, 2013
As their website states:
'Digital Humanities Now showcases the scholarship and news of interest to the digital humanities community through a process of aggregation, discovery, curation, and review. Digital Humanities Now also is an experiment in ways to identify, evaluate, and distribute scholarship on the open web through a weekly publication and the quarterly Journal of Digital Humanities.'
So you can imagine that I was really excited when my own blog post 'What Is Art History Made Of?' made their 'editor's choice' on 11th July 2013. It is important to me as a member of the digital humanities community to have the work recognised by this organisation but also, I feel it's essential is receives attention from other such experimental projects.
When you work openly online, although you are offering up your work freely, you still need ways of identifying and validating it. The scholarly article explaining the hashtag project, 'Is Art History Too Bookish?', is available online for all to read and comment on/peer-review, but having the project marked out by Digital Humanities Now is essential if it is going to find a decent sized audience without being published in a journal. Going forwards I hope it might still take some kind of journal-based or -related form, but in the mean time, it is important that I trial and lean about all the internet-based ways of working and publishing that the entire project seeks to investigate. So I'm very happy that Digital Humanities Now have given me the opportunity to explore more aspects of this ever-expanding project.
July 4th, 2013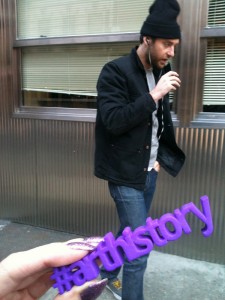 (Image of my hand holding an #arthistory hashtag in front of a man walking down a street in New York describing the work of Taryn Simon, 2013, Charlotte Frost)
Over the last few years I have been staging a practical and theoretical investigation of art historical media. I've been asking what are art history and criticism are made of? Of course, the simple answer is: words. When we interpret, contextualise and historicise artistic practice we, in the main, take something visual and turn that experience into one carried by words. But sometimes these words are spoken, some are printed in books and magazines and now, with the rise of digital technology and the internet, some of these words are digital. My concern is that not only do we, as art critics and historians overlook our own media in a bid to analyse and understand that of artists, but in doing so, we are ignoring what happens to art knowledge when it is rendered in different forms. So I decided I would have to render my own investigation in different forms.
I began to explore the nature of academic publishing with an open-access project called PhD2Published. A major forerunner in the now well-populated field of blogs offering advice on aspects of academic life, it was established not just as a resource but a tool. For example, by running the site themselves, participants can gain hands-on experience of writing across a range of social media, instantly increasing the forms their own work might take. With Gylphi, I set up Arts Future Book, the first academic book series dedicated to publishing works on the arts in experimental formats. Such projects are necessarily large and multi-faceted investigations into academic systems. They support each other and even spawn sub-projects that offer a wealth of useful data beyond my processing capacities alone. For example, the ever-expanding Academic Writing Month (a PhD2Published initiative) generates huge amounts of information on how academics write, the ways we describe our practice, and the fears we have about our own personal approaches. But these projects can feel overwhelming, and I wanted to strip art history down to one very simple element and explore the physicality of that element. I wanted to think about how art historians make art history.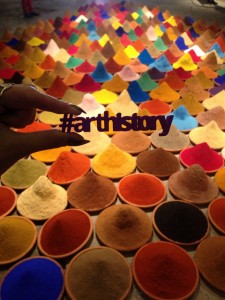 (Image of my hand holding an #arthistory hashtag in front of a work by Sonia Falcone, Bolivia, Venice Biennale 2013, Charlotte Frost)
Taking all the research and learning from Arts Future Book and PhD2Published I wrote an article asking whether art history is too 'bookish?' My aim was to set up a discussion of the relation between ideas about art and essentially bookish elements. For example, does the juxtapositioning of image and text contribute anything to our belief that art can and should be written about and even, is there a way in which we read art which relates to the way we read books? I wrote 'Is Art History Too Bookish?' (rather than make video or do a dance), because I felt it was important to speak firstly to the traditional form of art history, but I didn't want the article to appear in print. Instead, I set about exploring how it could be published accessibly, online and in a way that would allow for public comments. I wanted to create a space where peoples' interjections or annotations were part of the work itself and where reading was perhaps a bit more active.
I also wanted to speak back to our unspoken assumptions that art historical writing doesn't have (artistic, media-specific – even tendentious) forms of its own. That is, I wanted to draw attention to the physicality of art historical statements whether they are made in print or online. I wanted to look at art historical writing as an object.
(Image of my hand holding an #arthistory hashtag in front of  the book The Art of Art History: A Critical Anthology by Donald Preziosi on the Oxford University Press book stand at CAA 2013, Charlotte Frost)
I therefore worked with artist Rob Myers to create a kind of art object out of art historical text and one that might manifest the same sorts of questions about the form of art history as my article. In a way, I wanted an art object to parallel the article, but more than that, I wanted to make something that might help people think about the way we make art history with words. I believe that art historians already over-look the physical nature of printed art history, and that we are therefore completely oblivious to what digital art history is made of. And if the article itself compared print with online, so too should the artwork. We therefore took the classifacatory marker used on Twitter for all things art historical – #arthistory – and created a way for people to order a physical rendering of this hashtag. By visiting our http://hasharthistory.net website you can follow a link and order a hashtag to be 3D printed in a material of your choosing, and mailed to you for a cost-covering fee. Likewise, via the website you can find links to a range of ways in which the tag is being – for want of a better word – used. That is, we are encouraging people to order the tags and then use them in the real world the same you would use them in the digital world. If an image and or text is tagged '#arthistory' on Twitter, why not take the 3D printed tag and apply it to something three-dimensional, and feed your results – usually an image of the tag next to an object – back into the digital realm by uploading it to Twitter, Flickr or Tumblr. I have embedded a Flickr gallery in the article, so that any images included in the #arthistory Flickr group automatically illustrate my article, while this project of creating – that is perhaps also occupying and subverting – a form of art historical writing can be taken in its entirety as an illustration of the discussion the article presents. For example: do we really know what our art historical statements are made of and how this impacts the way we use them and the type of knowledge they can carry?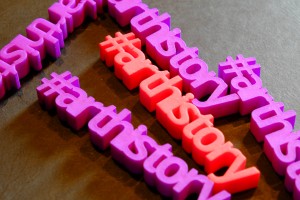 (Image of 3D printed hashtags, 2013, David Frost)
I wrote and uploaded the article onto a WordPress website using the CommentPressCore plugin so people could comment on each paragraph individually. Meanwhile, Myers and I set up the network needed to explain the hashtags – where to get them and how to use them. This meant, as stated, making a Flickr gallery for users to upload images to but also that I had to get out there myself and start experimenting with the tag. In fact I first used a prototype of the tag out and about at dOCUMENTA 13 and it instantly transformed the way I record my art experiences. I would never have taken photographs at dOCUMENTA 13 had it not been for the fact I needed to start gathering pictures for the project as well as get used to juggling a camera phone and 3D print. I would usually rely on other people's images and texts (in the form of catalogues and books), but the more I got used to tagging, the more I realised making visual and textual notes as I encountered artworks was valuable for my teaching and on-going research. I wasn't just mapping my physical route through an exhibition, but also the journey my thoughts went on. And it was fun. I should mention now that of course the 3D printed hashtag is also supposed to be an enjoyable project. Yes I am trying to draw attention to the objecthood of art historical knowledge, but I also want to encourage people to play around with the concept of art history.
Eventually I had to set up a ScoopIt! site for all the elements of the project because there was so much overspill. For example, in this context, the Twitter stream for the hashtag '#arthistory' is not just a public discussion channel but the site of an artistic intervention and though it's embedded in the article and listed on the http://hasharthistory.net website, it's a standalone element. Likewise I was soon interviewed by an art historian from Florence, Alexandra Korey, who co-runs an online marketplace for emerging forms of digital making (like 3D printing). Being asked to comment on the project in this context – as a form of critical making – was not an outcome I had expected but again it is an element of it and a way of demonstrating what happens when you work in a more networked environment than a book.
(Installation shot of 'Dirty New Media', 2013, Pete Ashton)
 Most exciting of the unexpected outcomes, however, was the inclusion of several 3D printed hashtags in an exhibition at the Barber Institute of Fine Arts. I was approached by Antonio Roberts, curator of 'Dirty New Media', who asked if he could include the tags in the show. Here's the description from the catalogue:
"These 3D printed models of the Twitter hashtag '#arthistory' rendered here in plastic and in gold-plated stainless steel are a playful way to think about what art history might be in the age of social media and crowd-sourcing. The entire artwork comprises both the creation of the ability to render this piece of digital text in 3D form and its ownership/use by anyone. There is a dedicated website (http://hasharthistory.net) that explains the project and points to how the tags can be obtained. It also features links to places where you can see the hashtag in use and join in (i.e. tagging real world items as 'art history'), these include a Flickr gallery, a Tumblr blog and of course the #arthistory Twitter stream. The project is also a three dimensional and/or practice-based rendering of an argument made by Charlotte Frost in an online art history article entitled: 'Is Art History Too Bookish?' In this article – which is deliberately offered online, rather than in print – Frost asks after the extent to which the format of printed books have contributed to the way we think about art. In this sense, the tags ponder the physical nature of textual objects and the future of art discourse. The work is also closely related to Myers' series of 'Sharable Readymades' which is the creation of 3D printable models of iconic works of art."
Perhaps more important than their inclusion in an art exhibition (and therefore their categorisation not as art historical text but as art objects themselves) was that they were displayed next to iconic works of art including 'Maria Marow Gideon and her Brother, William' (1786-1788) by Sir Joshua Reynolds . In many respects this was the consummate gesture: art historical text being appreciated for its object-hood while retaining its function as classificatory marker; the art of taxonomy as art.
(Image of my hand holding an #arthistory hashtag in front of a wall text at the Venice Biennale, 2013, Charlotte Frost)
Likewise, the digital form of my article had me make a mail artwork out of gaining peer-reviewers. As I published the article online and outside of a respected journal I was relying on email, Facebook and Twitter to publicise it's existence. Two high-profile digital scholars got stuck in and commented/reviewed the article fairly quickly and I am extremely grateful to Jussi Parikka and David M. Berry. But how do you get an open access/digital article on digital art histories publicly peer reviewed by non-Tweeting academics? You send out 3D printed versions of it to three-dimensional art historians of course. I wrote the http://hasharthistory.net URL on some paper tags, tied them to the hashtags mailed them to James Elkins, Amelia Jones and Griselda Pollock. Elkins relished the mystery reviewing the article and writing: 'Thanks so much for the surprise, and the puzzle!'
In gathering images of the hashtag I have also begun to think about the tremendous variety of contexts within which we make judgements about historical validity and what counts as art. Without initially intending to, I have started physically tag the wonders of the world. And perhaps ironically, my efforts to explore the digital life of art history have increased my exploration of the physical world. The tags have been to dOCUMENTA 13 and the 2013 Venice Biennale opening, but so too have they visited the Taj Mahal: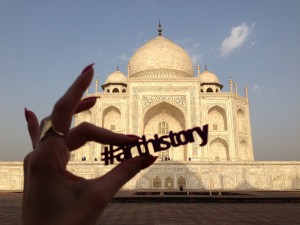 (Image of my hand holding an #arthistory hashtag at the Taj Mahal image also known as 'The Money Shot', 2013, Charlotte Frost)
and Stone Henge:
(Image of Image of my hand holding an #arthistory hashtag at Stone Henge, image also know as 'Hashtagged Henge', 2013 Charlotte Frost)
I set out to draw attention to the physical specificities of the forms art historical knowledge takes. From books to hashtags, I collaborated on the 3D printed hashtag to make an object out of art historical scholarship. In a sense, I was working in a similar vein to Lori Waxman whose project '60 wrd/min art critic' stages the act of doing art criticism within a gallery context and therefore forces us to think about criticism as both a practice and an creative work itself. And in fact, one of the main things to come out of my 'bookish/#hashtag' project is that I've begun to consider exactly what it is my own art historical work entails. I am already working on a study of the way I work on a daily basis. Yet I have also started to develop new ways of working.
In 2012 I was invited to give the Keynote at Duke University's 'Critical Ink' conference on writing. I began by talking about how I'd learned to blog by knitting and to knit by blogging, such were the cross-overs in openly shared methodology and three-dimensional thinking. And now I am gradually developing a practice where I make to understand (art) writing and write to understand (art) making. As an art historian I was trained to study other people's creative experiments. Not only that, but I had been encouraged to extract the essence of an artwork and distil it as writing alone. I was taught to close read and then close write, but never paint, sculpt or computer game about an artwork. Art historical writing becomes a sort of one-way transmediation which appears to assumes the ultimate form of knowledge is writing – an assumption which seriously undermines its object of study. This method has greatly contributed to the invisibility of art history's own physicality. I'd argue that some ideas about art are made of writing while others are made of making, and digital technologies  offer us valuable insight into these different critical modes.  With this project I have not only begun to explore the specific nature of different forms of art knowledge and shone a spotlight on my own practice, but I have also begun to build a more multi-modal and experimental practice for art history scholars and those working in the digital humanities. I have started to model what I hope will become a valuable creative and practice-based approach to investigating the contextualisation of art.