February Digital Practices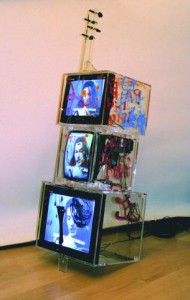 My latest column is out in a-n magazine. It starts like this:
"Late digital and media art pioneer, Nam June Paik, is represented by two shows in Liverpool (until 13 March). At Tate, his early history and technological experimentation starts off proceedings, with FACT picking up on more recent work – and showing Laser Cone for the first time in the UK. It's easy to forget just how visionary he was in recognising not only the potential in laser technology, robotic installation and television, but also that artists would soon come to work with these media just like paint and sculpture.
Of particular interest, in light of the increasing popularity of web tools such as Justin.tv and audioboo, for example is FACT's symposium on Friday 18 February. Entitled 'The Future is Now: Media Arts, Performance and Identity after Nam June Paik' and chaired by BBC Arts editor Will Gompertz, it features a stellar line-up that includes Roy Ascott, Jeremy Bailey, Ruth Catlow, John Hanhardt, Kristin Lucas and Marisa Olson."
To continue reading the article you need to head over to the a-n website.